If you lived in England in 1996 the abiding memory you probably have is that after years of tragedies, disasters and an ugly vibe of hooliganism surrounding the game, people found themselves falling back in love with football. I myself had actually come to dislike football after seeing the Bradford fire, Hillsborough disaster and the Heysel disaster unfold live on TV, but England hosting the European Championship won me back. We danced, we watched the matches in droves, we sang a cheesy but infectiously singable record call "Three Lions" and we were all depressed fr days when Germany beat us in the semi finals on penalties.
Yep, in the Summer of 96 we all watched the footie and things like going to the cinema suddenly took a step into the background. Not that audiences were missing much, because 96 was a year I really had to dig deep to find three films I really felt some affection for and had something to say about them (although my WTF? moment was frankly a no brainer).
But three beauties I did in fact find.
Mars Attacks (director: Tim Burton)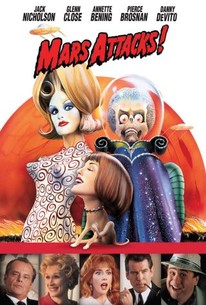 Based on the controversial Topps trading cards. Earth is under siege from Martian invasion and the government, citizens and military of the United States prove hilariously inept at repelling them.
Something that becomes evident upon covering films of the 90's, is the number of similar movies being released by rival studios in a short amount of time. Audiences would find their ticket money competed for by two films about volcanoes in the same year, two films about world threatening asteroids, even two films about Wyatt Earp. And in 1996 two films would exploit the same concept, by ripping off paying homage to the classic 50's B-movies staple of aliens in flying saucers invading and attempting to conquer the entire Earth, although only America seemed to matter. The films were Independence Day and Mars Attacks.
To say the two films were in competition would be a massive stretch. Mars Attacks was released six months after Independence day, preferring the Christmas season to the cut throat blockbuster Summer. The takes were very different, with Independence day dusting off the B-Movie scenario and modernising it with a near 21st century look and setting. It played it's own massacre of mankind for the most part straight and with an overbearing tubthumping of American patriotism.
In massive contrast, Mars Attacks revels in the 50's roots of flying saucer movies with the design of the Martians and their retro looking space craft, uniforms and equipment. The sound of their rayguns (yes, actual rayguns) is refreshing and like cocaine to the eardrums of nerds like me that got to watch repeats of classic sci fi pulp movies. With a spookily alien score that evokes the spirit of old school sci fi, the film embraces the old B-Movies and plays the destruction of the world for laughs.
As a fan of the lurid 60's trading cards (I bought a complete set at a sci fi convention, along a the lesser known Dinosaurs Attacks collection), it was Mars Attacks with it's sheer fun that won my affections over ID4. It is the antithesis of Independence Day's reverence for American institutions, mocking the abilities of the Military, it's Scientists (Pierce Brosnan is hilarious as the Doctor who is convinced the Martians intentions must be peaceful even after a disastrous first contact ends in massacre) it's popular culture and ultimately it's politicians.
That the House of Congress is disintegrated into skeletons of dust in comedic fashion (and drawing guffaws from an old lady watching on TV) says all you need to know about the tone. Jack Nicholson, who seems to be having an absolute ball as the President, responds with one of the best lines of the film in his classic manner with "I want the people to know that they still have two out of three branches of the government working for them, and that ain't bad."
Nicholson is hilarious as a President that starts the film with a dignity that befits his positions, but gradually with each defeat at the hands of the tormenting aliens descends into a cartoon wreck. He's the pinnacle of a huge all star cast featuring Glenn Close, Annette Benning, Natalie Portman, Danny Devito, Sarah Jessica Parker, Jack Black, Michael J Fox, Pam Grier and an hilarious cameo by Tom Jones (who is an awful actor even when playng himself).
But it's the Martians, with their dickish antics and "Ack-Ack" language that steal the show. While in Independence Day you wonder why the Aliens bother to target iconic monuments, in Mars Attacks you're left in no doubt it's because they are frankly twats taking the piss. Their worldwide tour of destroying beloved landmarks takes place in as mocking a fashion as possible (taking out the Easter Islands monuments with a bowing ball is my favourite), cultivating in posing for photos in front of a mid destruction Taj Mahal in the ultimate sign of disrespect.
Sadly Mars Attacks remained in the shadow of the bigger and more serious Independence Day. While both films were greeted with mixed reviews, audiences flocked to Independence Day but did not return for the laughs of Mars Attacks. Personally I think of the two Mars Attacks has aged better, it's retro homage style still looks impressive with it's combination of preactical and CGI effects. In comparison some of the effects of ID4 started to look ropy very quickly.
Mars Attacks is a riot, and no matter how many Oscar nominations Natalie Portman receives, she will never utter a line as great and dry as "Guess it wasn't the Dove."
Beavis and Butthead do America (Director: Mike Judge)
The MTV stars Bevis and Butthead somehow fnd themselves in their own movie. A quest across America to find their stolen TV and finally score with a woman.
If ever the transfer of a fad TV show to the big screen which had no right to be good but overachieved to unfathomable levels, it's this one.
Back in the day, when MTV was actually about music videos (I'll hold off on my potentially old man rant about what's happened to that channel), I used to be amused by Bevis and Butthead. Not so much the crudely animated stories of vandalism and stupidity, but their hilarious commentary on the music videos. Mocking the stars of the day and perving over the overtly sexual nature of the videos (let's face it MTV was an easy source of porn for many of us pre internet, don't pretend otherwise) with non stop guffawing that drove parents to despair, the pair were a youth culture phenomenon.
But it was an act that soon wore thin for me as I slipped out of my teenage years, so when a full length movie was announced I groaned. I was sceptical that the pair's act could ever sustain even a ninety minute movie.
Shockingly, the humour translated perfectly by throwing Bevis and Butthead into a web of coincidences and misunderstandings, as they wandered fairly non plussed across America.
The opening of the film is genuinely hilarious, with the pair waking up to find their TV stolen. With Bevis panicking and fruitlessly trying to work the remote control, while Butthead looks back and forth from the empty space to the broken window to the footprints leading through the open door trying to dimly figure out what has happened. It's the kind of wit I'd not associated with the series.
As the pair set out to find their TV they become embroiled in an epic farce, been mistaken for hitmen hired to kill a criminals wife (although they take the job to "do" her totally the wrong way) and leading them into a terrorist plot making them top of the FBI's list most wanted list.
It's a classic comedy of errors, filled with straight characters for the two to play off (an unfortunate holiday maker seems an early version of Hank from King of the Hill) as they unsuspectingly reek havoc at American landmarks such as the Hoover Dam and the Whitehouse (where a crank call almost causes world war three).
The humour is still juvenile, but feels more innocent and harmless than in the show, with little of the destructive vandalism they were known for. There's even a weirdly touching moment where Bevis goes on a rant about never getting to "score"with women and you actually start to feel for his frustration (although today's PC, outrage culture would probably write an essay on this showing of male entitlement).
Bevis and Butthead do America surprised the hell out of critics and audiences, with even the likes of Siskel and Ebert finding the pair endearing, despite all the silliness and infantile humour.
While youth culture seemed to encourage stupidity in the nineties with Bill and Ted, Wayne's world and later Jackass, the Bevis and Butthead movie seemed to get the right balance of dumbness and likeability. It also had an anarchistic, underground edge to it, that was refreshingly geared towards fun as opposed to any political of social subtext.
If there is anything to take from Bevis and Butthead do America, it's that rather than being the generation that was "more afraid of living than dying," the 90's youth was more inclined to not giving a fuck or worrying about anything. And frankly, why should they?
For what it's worth, when I was in my early twentes people said I looked a lot like Bevis.
Brassed off (Director: Mark Herman)
Pete Postlethwaite is the bandleader of a colliery brass band, intent on winning the National finals. However he faces disillusionment from his musicians, worn out by the aftermath of the 84-85 miner's strike and facing the realities of the closure of the town's pit.
I can't help but feel a personal attachment to Brassed off. It was sent and filmed only a couple of miles from me in the village of Grimethorpe (renamed Grimly in the film) and is based on the Grimethorpe Colliery band who provided the film's stirring music. While not a miner myself I came from a town that depended on the pits, my Grandfather and many members of my family made their living there and I saw the hardships that the year long strike and subsequent closure of the mines brought on them and the families of many of my classmates at school.
When we meet the people of Grimley in Brassed Off the town is near crisis. A vote on the future of the pit is pending where the miners will decide whether to accept a generous redundancy or go to arbitration, where a survey will decide if the pit is profitable enough to remain open (the result could mean the pit closes anyway with a lower redundancy payout for the workers). Families are struggling with debt and the fighting spirit of the town has been worn out.
The last vestige of pride and community is the Colliery band and is the whole reason for Conductor Danny Ormondroyd to live. He battles through illness (the cause for to be years working down the mine) intent on keeping the band focused and together to win the national finals in what could be their final year together.
Despite these dire circumstances, Brassed Off manages to retain a light hearted tone at times, with a dry sense of humour as the village attempts to put a brave face on their lives. Which only makes the hardships that much harder to stomach, as the inevitable closure of the pit takes it toll on the miners. Most notable is the mental breakdown of Danny's son Phil who in debt to loan sharks, loses his wife and kids and while trying to make ends meet as a clown for children's parties (in one funny but tragic scene he starts a tirade against Margaret Thatcher in front of a group of kids) ends up trying to hang himself.
There are more heartbreaking scenes. Returning from a triumphant semi final win the band find the vote has been taken to close the pit. As the band stand in shock and without purpose, realising this is the end of the band Danny collapses and is hospitalised.
One of the most emotional moments in the film comes at a night time vigil outside the hospital where Danny is recovering. The band wearing miner's helmets to light up their music sheets, play a tear jerking rendition of Danny Boy, the lump in the throat moment growing with the image of a young trumpeter Ewan Mcgregor who broke has had to part with his instrument and can only whistle his part of the song.
Music naturally plays a massive part in the film and aptly was provided by the real Grimthorpe band. The stirring sound of the Brass Band exudes a warmth and has a dignified pride that is immensely appropriate to the plight of the community.
Brassed off is home to one of the best performances of Pete Postlethwaite's career and he was criminally overlooked for award nominations within even the UK. His shining moment in the film comes near the end where the Band win the Nationals Final in the London Royal Albert Hall (actually filmed in Birmingham) and he realises what really matters in life is the people of the band. Delivering one of the greatest speeches in British films, a tearful but defiant and angry Danny denounces the treatment of the Tory government in savaging communities in the name of progress. " If this lot were seals or whales, you'd all be up in bloody arms," Danny says.
For some reason the politicising in the ending of the film did not go down well with some critics, especially with a general election looming the following year. Well boo hoo for the fucking Tories, because what Thatcherism shamefully did to working people needed to be brought to attention. Sadly Brassed Off didn't find an audience in the same way that the Full Monty did a year later, a far more flippant and crowd pleasingly film with the gimmick of unemployed men becoming strippers. When the film was released in America the marketing tried to focus on the romance subplot of Mcgregor and Tara Fitzgerald and portraying it as a light hearted romance.
Brassed Off is a gem of British cinema, a bitter sweet little film that stands tall with pride but even in it's victory never shies away from the magnitude of the injury and injustice the community face.
While I don't get political often, I'd like to applaud Brassed Off in highlighting what many communities suffered in the 80's and 90's due to the uncaring scourge of Thatcherism. My home town of Barnsley was torn apart during this time and even today, poverty and unemployment are major problems. Grimethorpe in particular was found to be the poorest village in the UK and amongst the poorest in Europe. Yet despite this, the town's plight received little media attention. Only Barnsley football club's underdog run for a single season in the Premiership brough the town any publicity.
After having the guts ripped out of the town for years the only times that reporters and cameras came to the town were when a rise in support for the BNP at elections occurred (but nowhere near enough to challenge the other parties) and to cover it's large percentage of votes to leave Europe in the referendum. While I could never condone supporting such a group and as someone who voted for remaining in Europe, perhaps there is a lesson to consider that when communities are forgotten, left with nothing and not considered politically sexy enough to attract support, maybe it's not surprising what desperation drives people to do with their vote,
WTF??? Twister (Director: Jan De Bont)
I love a good cheesy disaster movie. But Twister has to be one of the dumbest movies I've ever seen. Even with my ever so forgiving movie tastes , I found some of the corny tropes in this film unforgivably nonsensical.
Twister sees Bill Paxton and Helen Hunt leading a team of misfits who chase tornadoes, which seems a really stupid thing to do when people in disaster movies tend to, you know run away from such things and live a long fruitful live. Incidentally Paxton and Hunt are getting a divorce and Paxton has brought along his new fiancee who is portrayed as really weak and to be made fun of because she shows enough common sense to realise chasing tornadoes is not a particular smart thing to do.
Anyway, there is another team in Twister who are chasing tornadoes, but these are a "bad" group of tornado chasers because they are in it for the money. Why there is money to be made in chasing tornadoes I'm not sure, maybe they can be captured and sold to a wind farm or passed onto the military to be utilised as a weapon. I'm sure there is a valid reason, but sometimes ignorance is good for comic effect. Anyway you can tell the other tornado chasers are evil because their equipment is all shiny and new and their cars are real clean and black.
See the motivations of our heroes are all pure, especially when it comes to Helen Hunt. You see, in a forehead slapping revelation, in drawing on one of the easiest tropes in lazy screen writing it turns out Helen Hunt's parents were killed by a tornado that hit their home when she was a child and left her the only survivor.
So from that day forward Helen Hunt decided to dedicate her life to tracking down tornadoes and….I don't know, killing them brutally and making them all pay until she's wiped every one of them off the face of the Earth? No, it doesn't quite work as well as Quint in Jaws after the USS Indianapolis incident.
There's some sort of plot with some new tech the chasers have that's meant to fire balls into the tornado, except it doesn't work right and the tornado just knocks it over and the balls just role everywhere. So they come up with some way for the balls to fly up properly into this really big tornado and it works. Yay, the chasers have won and now they can start taking the fight back to the tornadoes and kick their arses out of America and up into Canada where they belong.
Well it's not as dramatic as that (this isn't sharknado where they blow up a tornado come on), but apparently with this device they can now spot tornadoes coming a lot sooner and give people who aren't tornado chasers a head start in running away. Providing the tornado goes over one of these new contraptions first I guess? I don't know it was a long time ago I saw it at the cinema (23 years to be exact, fuck was it that long ago) and I can't be arse to look it up to be honest.
Anyway, Paxton splits up with his new girl who seems relieved to be out of it and he and Hunt hook back up again, the bad Tornado Chasers get killed by a tornado which isn't so much ironic as probably inevitable. And the world is apparently safer from tornadoes than it was when we started.
I remember this as been a really dumb film and I really don't have the inclination to be proved otherwise. Although I do remember it has a really funny bit with a flying cow.
Well, that's all from me. By the time I'm back to cover 1997 I will have seen Avengers:Endgame. Unless it really sucks as bad as Twister, in which case you may never hear from me ever again.
So til then…
Dazza
I may have something a little different before I turn to 1997….we'll see.