I can't believe people on TV are the ones actually running the country. Didn't it used to be that when a professor started going on TV, everyone knew, "OK, he's gonna kinda ham it up because that's how Nancy Grace likes it." Nope, there's Alan Dershowitz, still at it.
Same with John Bolton: Because I saw you on Red Eye at 2:30 in the morning making jokes with Greg Gutfeld, and probably someone from GWAR, you're not allowed to not make actual real-world decisions now.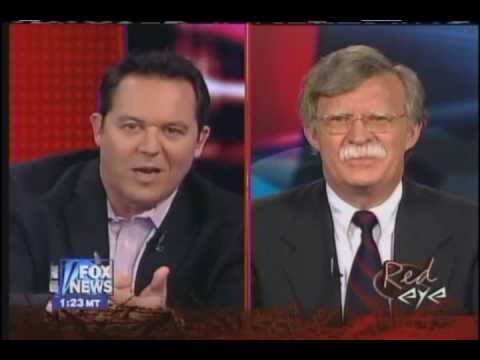 Once you sell out, you're done. That's the point of a sell out. You got paid and now we know you weren't genuine. Whatever you do post-sellout was tainted by the money in the same way that a tiny bit of napalm in the gas tank changes its nature. Nothing wrong with that, per se, and we adults all wished you well, but you had to be all-in if you wanted to play.
There was a line out there in the sand and on the one side were those in the ocean and the other were those selling water. You could surf and be one with nature or you could bottle it up and sell it to poor people crossing the border but you couldn't do both. Alas, these rules are ignored by Today's Kids.
And this didn't disappear because the world became more commie, no, it disappeared because we all became more corporate. News personalities are now unashamedly delivering ads via their personal twitter accounts – they bought the news. Hell, they bought the lefty news!
And I love the corporate and live by it and swear by it and I'll fight to the death in the back of an alley for it – but artists shouldn't. You should be living off nothing but your talent and refusing to compromise your vision for the world. You're poor but you're poor by choice. Or was that a self-deceptive lie? Did we just comfort ourselves with principles, a wool blanket to keep us warm from the cold reality that we just weren't all that good to begin with?
#MAGA