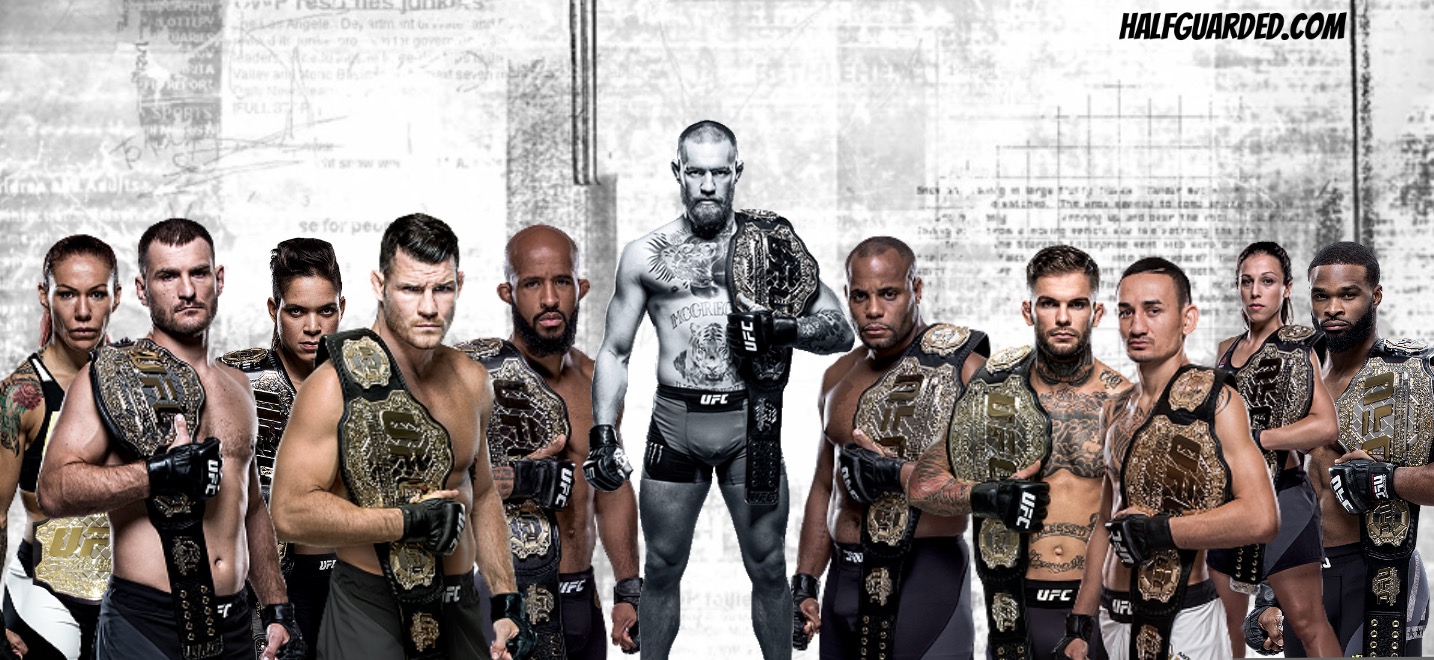 The Middle of an IRC Debate
The World of Violent Cage Fighting Sport
I've never cared much for rankings.  When your top level fighters fight, what?, maybe 3 times a year – at best – what does it really mean to be ranked higher or lower?  And for a sport with far more fluke finishes than is typical, just getting a W doesn't always mean much (See Matt Serra d. Georges St. Pierre).  Still, you people like rankings and folks like to debate them and I'm bored as shit so here we go.
In general, if you beat someone, you're ranked above them unless there are extenuating circumstances. (i.e., Stefan Struve beat Stipe Miocic and Miocic has never avenged that loss but I'm not ranking Struve higher).  More recent activity is weighted more, though there aren't algorithms or anything. And if two dudes haven't fought and are near one another in general, I'll probably pick the dude I think would win.  This is scientific, I know.  OH!  And if I think the division is really lacking (I'm looking at you, heavyweights and women's featherweight), I'm just gonna rank as many as I feel is appropriate.
And I reserve the right to randomly change these based on nothing more than my womanly intuition.
By default, non-interim champions are listed first, interim champions are listed second, and dudes who have popped for stuff aren't ranked while suspended, Jon Jones.
HALF-@$$ed UFC RANKINGS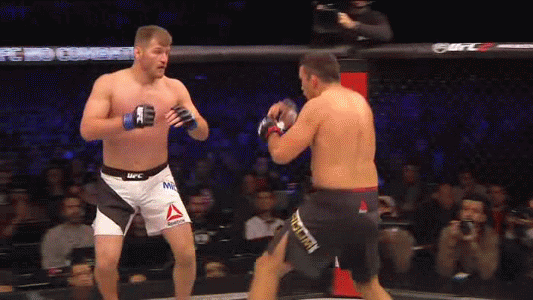 HEAVYWEIGHT
Stipe Miocic (c)
Alistair Overeem
Fabricio Werdum
Cain Velasquez
Mark Hunt
Derrick Lewis
Francis Ngannou
Alexander Volkov
Overeem has rebounded from his loss to Miocic. Stipe is the Clear Cut Best HW, right on the verge of setting a consecutive title defense record for heavyweights. History says he loses his next fight.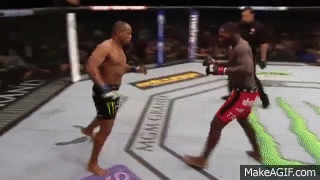 LIGHT HEAVYWEIGHT
Daniel Cormier (c)
Alexander Gustafsson
Volkan Oezdemir
Jimi Manuwa
Mauricio Rua
Ovince Saint Preux
Glover Teixeira
Misha Cirkunov
Corey Anderson
Ilir Latifi
Jon Jones is an idiot, boi bye. D.C. is the best by default. Gus is clearly #2. Everyone else is whatever. Volkan is where he is because he wins the darn fights and that's all you can ask of a man. Unless Rumble returns, this is a two man division.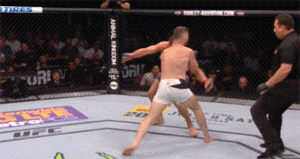 MIDDLEWEIGHT
Michael Bisping (c)
Robert Whittaker (ic)
Yoel Romero
Luke Rockhold
Jacare Souza
Chris Weidman
Anderson Silva
Derek Brunson
Kelvin Gastelum
David Branch
There was this big four at middleweight and then WHAMO two new faces at the top. (Historically new.) After Weidman, it drops off a lot.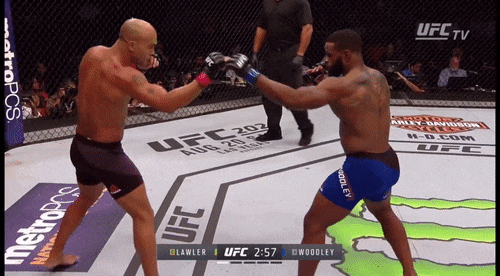 WELTERWEIGHT
Tyron Woodley (c)
Robbie Lawler
Stephen Thompson
Demian Maia
Rafael Dos Anjos
Jorge Masvidal
Donald Cerrone
Carlos Condit
Colby Covington
Kamaru Usman
Usman keeps winning and looked like a boss in his last go. Maybe I'm a little too high on him but he deserves some respect. Hopefully the rumors of a Condit return are true. (They are.)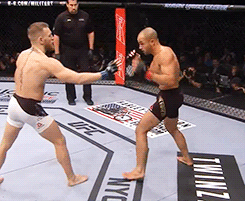 LIGHTWEIGHT
Conor McGregor (c)
Tony Ferguson (ic)
Khabib Nurmagomedov
Edson Barboza
Eddie Alvarez
Justin Gaethje
Nate Diaz
Kevin Lee
Dustin Poirier
Michael Johnson
Tony won himself a title that is as legit as any other interim belt, I suppose. FEATHERWEIGHT
Max Holloway (c)
Jose Aldo
Frankie Edgar
Ricardo Lamas
Cub Swanson
Chan Sung Jung
Brian Ortega
Yair Rodriguez
Darren Elkins
Jeremy Stephens
Holy hot damn is Holloway awesome. And the top four all look like they'll fight in the next few months, yay! Some good young talent bringing up the rear. And then … Stephens? Who the fuck is that guy?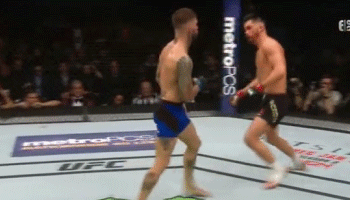 BANTAMWEIGHT
Cody Garbrandt (c)
Dominick Cruz
TJ Dillashaw
Jimmie Rivera
Raphael Assuncao
John Lineker
Bryan Caraway
Aljamain Sterling
Marlon Moraes
John Dodson
Caraway will never be great in my eyes, no matter what. Never let your woman be more successful, kids.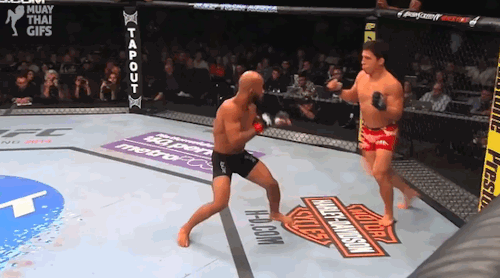 FLYWEIGHT
Demetrious Johnson (c)
Joseph Benavidez
Henry Cejudo
Ray Borg
Sergio Pettis
Jussier Formiga
Wilson Reis
Brandon Moreno
Ben Nguyen
Tim Elliott
This is DJ and then 9 Guaranteed Losses. I have a new challenge for DJ: become the first man to have a win over every single person in top ten.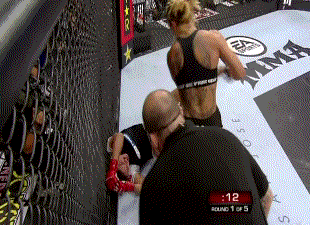 WOMEN'S FEATHERWEIGHT
Cris Cyborg (c)
LOL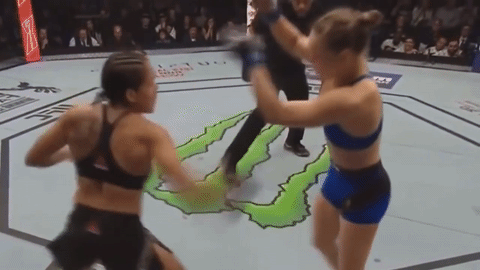 WOMEN'S BANTAMWEIGHT
Amanda Nunes (c)
Valentina Shevchenko
Holly Holm
Raquel Pennington
Julianna Pena
Ketlen Vieira
Sara McMann
Ronda Rousey
Cat Zingano
I see the top five as somewhat interchangeable. The rest aren't close. At least she has a good husband. You know who…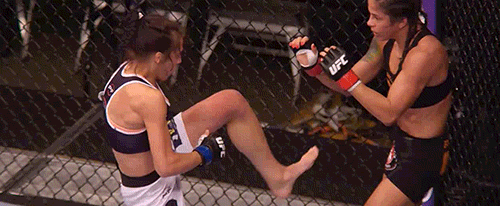 STRAWWEIGHT
Joanna Jedrzejczyk (c)
Jessica Andrade
Claudia Gadelha
Karolina Kowalkiewicz
Rose Namajunas
Tecia Torres
Michelle Waterson
Cynthia Calvillo
Carla Esparza
Felice Herrig
If she beats Rose in November, JJ will have cleared out more than half the top ten. Maybe she should take up my previous challenge.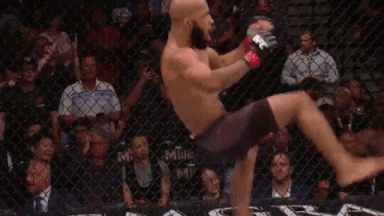 POUND FOR POUND
Demetrious Johnson
Conor McGregor
Daniel Cormier
Max Holloway
Cody Garbrandt
Robert Whittaker
Stipe Miocic
Frankie Edgar
Tyron Woodley
Dominick Cruz
*Women are not ranked alongside men.  Our rankings understand Sharia.
The gulf between DJ and #2mis as wide as any you'd find at a porn convention.
BUY UFC STUFF