I looked at the card for UFC 201 and wasn't immediately excited. No doubt, the ridiculous run of shows with top to bottom depth, from UFC 196 through UFC 200, has left me spoiled. So, Robbie Lawler vs Tyron Woodley? That's the main-event? I didn't feel that visceral spike of adrenaline that moves me to think about a fight night and day. They're both good fighters, of course, but it almost seemed like a show I could *gasp* skip.
Now, I wouldn't have skipped it, because the worst night of fights is better than the best night of anything else. Still, Lawler vs Woodley…
I started prepping the website for the week. I'd go and find pictures, animated gifs, a video or four, whatever I could to add color to our coverage – then it started. A sunrise of excitement crept into my apathetic darkness. Man, when he dropped Melvin Manhoef while on one leg, that was awesome. The first ray cracked the horizon, striking my eye a little earlier in the morning than I expected, forcing me awake. The way he said Fuck You to the world and roared back to beat Rory MacDonald in the latter rounds – twice! –that was awesome. Slowly, deliberately, inevitably, it kept rising. Close your eyes, untether your hands so they can slam into Carlos Condit's skull, knowing that was your only chance to win, and then actually doing it: retaining your title with a five minute blitz which closed out 25 minutes of hell. I was suddenly bathing in the warm realization that Saturday night could be special: Robbie Fucking Lawler was fighting.
Robbie Lawler. A man who went from young prospect, to washed up journeyman, to world champion. That's a great story. Who wouldn't want to watch him? But it wasn't that, I've seen fighters mature over time. No, it was how he evolved. He didn't. The same kid who was barely twenty years old when he scrapped with Aaron Riley at UFC 37, leaping in with Tyson-like hooks (called as such that night), willing to eat three to give one, who would roar like a wounded gorilla, slapping his chest all the same, before storming back into the fray, is still here today.
Heads are watermelons and he's Gallagher with a jackhammer.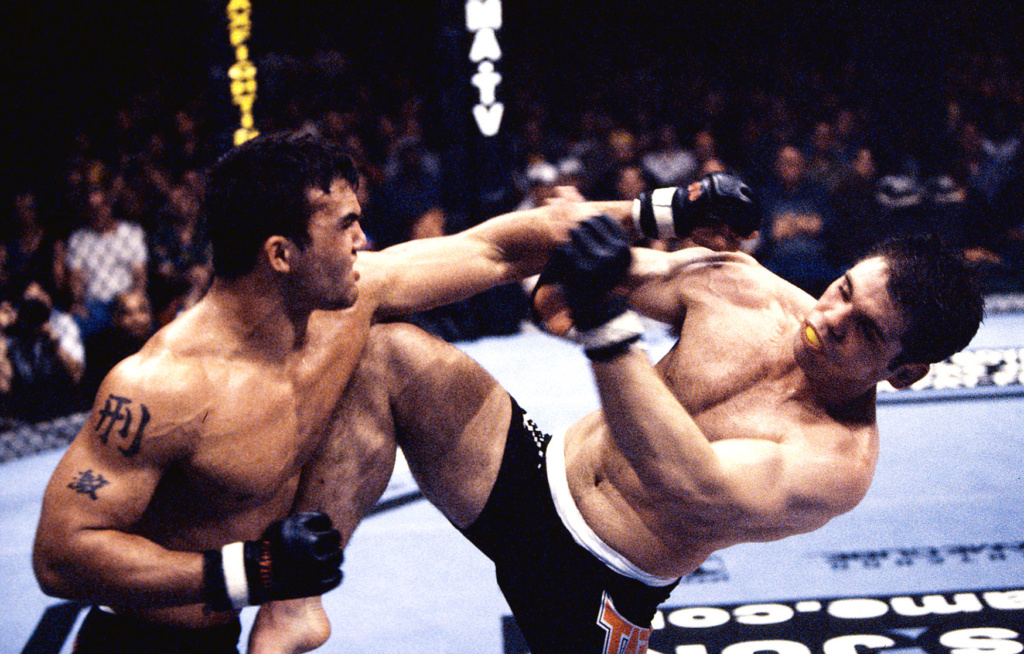 When it counts, Lawler fights. In an era of guys becoming more and more sportsman first, fighters second, Lawler is a throwback. He fights. That's what he does. He wrestles only so he can punch. If he's on the ground, he grapples only so he can punch. Tear off part of his lip and he'll shatter your nose like a Fabergé egg in a hurricane.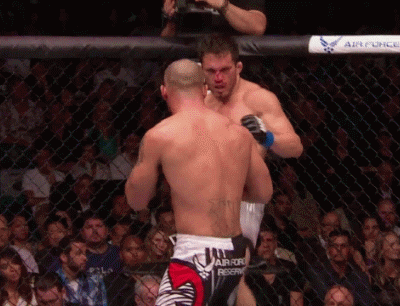 He hasn't had a boring fight in … I don't know. But forget about not having boring fights, he's had nothing but exciting fights since his return to the UFC: Four Fight of the Night bonuses, a Knockout of the Night, a Fight of the Year, and his war with Condit this past January is an early candidate for Fight of This Year.
Lawler has ended men with punches in the first round…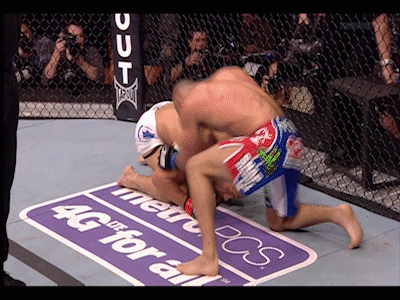 … and the fifth.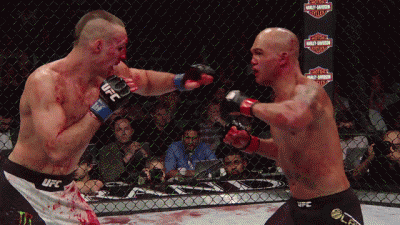 He has been behind on cards and, in scenes out of a cheap pulp novel cliché, found something inside to come back and win rounds when it truly mattered. Split decisions, sure, but earned split decisions over MacDonald, Hendricks, and Condit. There is a knuckle ripping through the skin honesty in how he fights.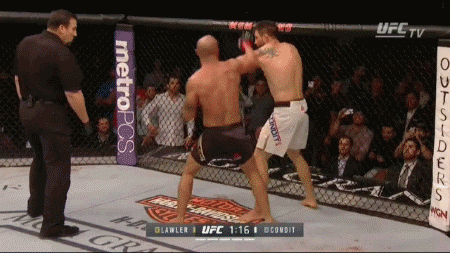 Drawing fans is a tricky art, a combination of skill, charm, and that undefinable "it" of charisma. Lawler doesn't talk like McGregor, doesn't have an aura like Lesnar, and isn't breaking barriers like Rousey. But he has my full attention. I know with Lawler, more than most any other fighter, I will get my money's worth. $50 for a PPV? More than fair knowing that, win or lose, a Robbie Lawler fight will make me leave my seat. It could be the most boring show of the year, leaving you moments from sleep, and then he's there: late night cocaine to keep you partying until dawn.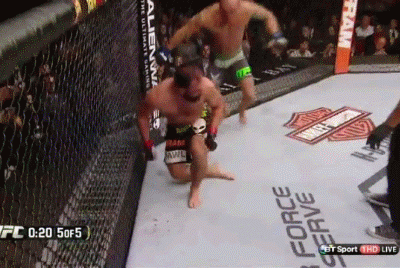 Death. Taxes. Robbie Lawler. There are guarantees in life and being hoarse after Lawler fights is one of them. You don't watch him and then fall asleep. You pace around. You breath deep. Slow your heart-rate. You have to calm yourself; settle your nerves. He's causes a panic attack that leaves you smiling.
I won't tell you he's an all-time great, because he isn't. Not yet. I won't tell you he's the pound for pound best, because he isn't. I won't tell you he brings the "big fight feel" of other stars, because he doesn't.
But I will tell you that when Robbie Lawler fights on Saturday, you – we – will be entertained. That is a reason to be excited.