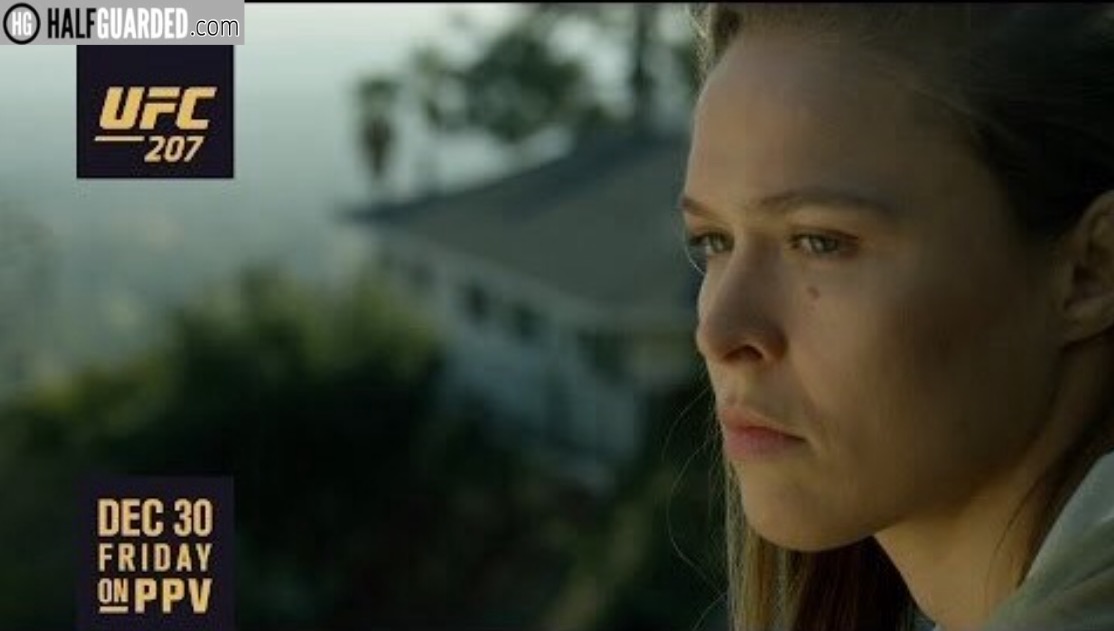 Ronda Rousey seems unhinged; UFC 207 Countdown Preview Show
December 26th, 2016 by Mike Coughlin
This was going to start as a joke post where I'd just throw in a lot of useless text so it looks like copy all in an excuse to show the UFC Countdown Show.
Then I started watching it.  I'm still watching it.  The stuff with Ronda is jaw dropping.  Not in that it is done so well or anything, oh no no no…  She really IS living in this weird "MMA Fans Hate Me" bubble.  I seriously think she is living in some reality of her's where MMA Fans hate her and instead she is now fighting for her non-MMA Fans, which I suspect she categorized as a bunch of awkward teenagers who were all good and deep down a special Judoka.
Nunes is shown being gay.  No, like, hanging out with her girlfriend and playing fetch with her dogs.  I'm not sure if the dog thing is gay or not.  I like playing with my dogs but I'm also a dude.  Maybe if a chick does it, that is like her being a man so it's gay.  Like if a dude plays with dolls.
Oh, and Nunes's girlfriend is also in the UFC.  How fucking amazing would it be to see two "lovers" fight each other.  It is obviously more likely with the women because there are more gay women in the UFC than gay men but it would be so, so, sooooo amazing.  Imagine the social commentary!  "Is this spousal abuse?"  I now have something new to live for in life.  Glory be!
OK.  Here's the special.  I loved it so so so much for dumb reasons.
Ronda Rousey doesn't seem sane; UFC 207 Countdown Preview Show
Amanda Nunes (c) vs. Ronda Rousey – UFC Women's Bantamweight Championship
Dominick Cruz (c) vs. Cody Garbrandt – UFC Bantamweight Championship
Fabrício Werdum vs. Cain Velasquez – Heavyweight
T.J. Dillashaw vs. John Lineker – Bantamweight
---
Johny Hendricks vs. Neil Magny – Welterweight
Dong Hyun Kim vs. Tarec Saffiedine – Welterweight
Mike Pyle vs. Alex Garcia – Weltertweight
Louis Smolka vs. Ray Borg – Flyweight
---
Tim Means vs. Alex Oliveira – Welterweight
Antônio Carlos Júnior vs. Marvin Vettori – Middleweight
Brandon Thatch vs. Niko Price – Welterweight
Cool UFC 207 Products for Sale