Anybody who says they're NOT excited about Jon Jones fighting Brock Lesnar is a crock of shit. That's about as close as we'll ever get to watching the Silver Surfer fight Thanos in real life, and even if it only lasts 20 seconds it'll still probably be worth every penny of the PPV purchase. This fight needs to happen, and it needs to happen as soon as freaking possible.
What more can be said about Jon Jones? A year away from the sport and rocking a freshly cropped chrome dome that makes him look so much like in-his-prime Mike Tyson it's kinda' scary, he put on what is far and away the most impressive performance of his career. He made the second best MMA fighter on the planet look like a first-day Taekwondo enrollee, and the really terrifying thing? Jones is

still

another five – possibly even

ten

– years away from reaching his absolute physical peak.
That was probably the most emotional post-fight scene I've seen in a long time. Of course, I don't really

believe

Jon Jones honestly believes all that shit he said about becoming a better person and respecting Daniel Cormier and promising to not snort cocaine anymore, but man, was it the absolute

perfect

monologue to complete his heel-face turn. And I can't be the only person who laughed out loud when Joe Rogan said something to the effect of "I just hope your life is nothing but good from here on out," almost like he

knows

he's about to fuck up again, am I?
I don't think I've ever felt as bad for a fighter as I did for Daniel Cormier last Saturday night (except for maybe Mark Hominick after his

almost-comeback

against Jose Aldo at UFC 129.) Here's a dude that probably won the second round, who

looked

like he found the perfect offensive counter to Jones' long distance game. Well, one foot upside the head and about 30 elbow strikes to the skull later and it'll be a miracle if he ever remembers how to do fractions again. That said, I am kinda surprised a dude who was visibly concussed (so much so that his face looked like Sloth from

The Goonies

) was able to deliver such a cogent and cognizant post-fight interview, complete with that almost

beautifully

tragic realization "well, if he won both fights, it really isn't much of a rivalry." The absolute

dejection

in Cormier's voice – knowing that, for the rest of his life, he'll never be considered the greatest of his time – highlights the incredible human drama of mixed martial arts; sorry, Meryl Streep, but watching a grown man with a probable brain injury sob his way through an interview about a legacy-destroying defeat that happened just

seconds

ago is the absolute epitome of high art in my book.
Did Big John allow too many unprotected elbow shots in the main event? Eh, probably, but in a big fight like this you HAVE to give fighters a little bit of wiggle room, or else we'd never get awesome comebacks like Lesnar/Carwin or even Gaethje/Johnson from a few weeks back. We all like to

pretend

fighter safety is priority no. 1, but let's cut the bullshit – even the fighters themselves accept and

want

the kind of leeway McCarthy demonstrated, and you're a lying sack of shit if you say you

don't

want that kind of laissez-faire officiating as an MMA

fan

, either.
Should Joe Rogan have interviewed Cormier after getting KTFO? Well, to the best of my knowledge Cormier still had the mental faculties to say "no comment," but chose to take advantage of the mic time regardless. If fighters want to talk after having their brains turned into unflavored gelatin, let him, and if they don't, leave them be – it's

that simple

.
Tyron Woodley set a new UFC record for least amount of strikes thrown in a Welterweight Championship contest over the weekend – and seeing as how GSP dominated the division for the better part of a decade,

that's quite the accomplishment

.

Speaking of, that Woodley/Maia bout has to be the worst fight I've seen all year, and I'd be absolutely gobsmacked if anything even comes close to outdoing it in terms of sheer suck. And here I was, naively thinking

nothing

could eclipse Woodley/Thompson 2 on the MMA Turd-O-Meter in '17.

That said, Maia was every bit as responsible as Woodley for that 25 minute-long snoozer. Shit, if you miss

22 consecutive takedowns

, what makes you

think

you'll be able to land the 23rd attempt, exactly?
Chef Gordon Ramsey got a bigger pop than Demetrious Johnson. The sad thing is, I totally expected it, too.
Say what you will about Tonya Evinger – that she managed to last three rounds against Cris Cyborg proves she's one of the toughest women on the planet. Also, I've never seen a featherweight fighter with love handles before, so there's that, too.

Yeah, I thought Cerrone should've won, but round three against Lawler really was a toss-up. The really sad thing is that I think Cerrone has a much better chance of beating Woodley at his own game, and would have likely proven a much tougher opponent for Woodley than Robbie.
What was weirder: Joe Rogan freaking out when everybody started doing the Wyatts' gimmick with their cell phones, or Lawler's corner screaming "He's got no liver!" over and over again

right

after Rogan told the anecdote about Cerrone having his intestines yanked out in a motocross accident?

Also: UFC broadcasts would be WAY more entertaining if they let Joe smoke weed while he did commentary. Just something to think about prior to the next event in Colorado.
Volkan Oezdemir is a scary, scary chunk of Swiss cheese. There aren't many people who can knock out anybody from the clinch, let alone a top five Light Heavyweight fighter in barely 30 seconds. I don't know about you, but I'd LOVE to see him go toe-to-toe in an all-Aryan number one contender match against Alexander Gustafsson. In fact, I now DEMAND IT as a (sometimes) paying consumer of the UFC brand.

Ricardo Lamas' first round finish of Jason Knight

should

make him the next in line to face the winner of the upcoming Max Holloway/Frankie Edgar championship scrap. That, or put him in a title eliminator against Jose Aldo, at the very least.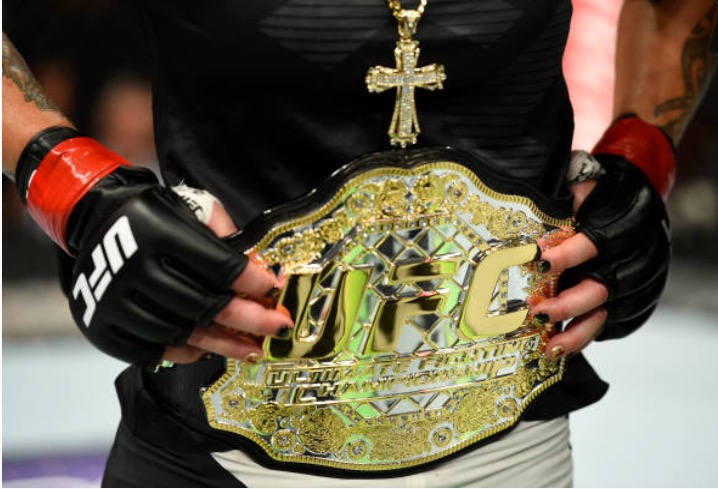 We need Jason Knight vs. Korean Zombie so bad,

it physically hurts

.

Aljamain Sterling is going to be a UFC champ someday. It might take another two or three years, but I guarantee you it's gonna' happen.

With his win over Renato Moicano, Brian Ortega has now finished four consecutive opponents in the very last round. If that isn't a record of some kind, it's at least a reason to go out of your way to catch his next fight, for sure.

Yeah – it's time for Josh Burkman to call it a career. Come on man – you've already made Jon Fitch tap in under a minute, there's really nothing else to prove anymore.
And lastly, did anybody else find it odd that Jon Jones didn't thank God and/or Jesus after winning the belt back? I mean, for a dude with a bible verse literally tattooed on his chest, that seems like a

suspiciously

large oversight …