Brett Rogers was once 10-0 in MMA, with a knockout over Andre Arlovski, and a bright future as a heavy hitting heavyweight.  Today, he is reportedly homeless and has been charged with multiple counts of criminal sexual conduct.
Rogers – who is innocent until proven guilty but no one will remember that and instead assume he's guilty because that's the world now – saw his career peak when he fought Fedor just outside his hometown of Chicago, where Rogers suffered his first professional loss.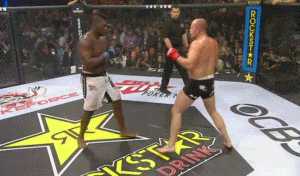 Interestingly enough, that was the last win of Fedor's dominant reign, as the Russian would soon lose to Fabricio Werdum.
Rogers career of late has seen it's fair share of ups and downs, though mostly downs.  He had a short stint in Bellator but his most recent fights were for independent promotions.  He last fought in December of 2015, defeating Andrew Hines, Jr.
Rogers reportedly attempted to grope several men at the George Latimer Central Library in downtown St. Paul, Minnesota, according to a report from the Twin Cities Pioneer Press.  The incidents all appear to be relatively innocuous, as they're grabbing a man's ass, asking another if he wanted sex, and supposedly fondling a cellmate in prison.  Not that these are innocent acts but they seem more in line with a man in need of serious help, not a dangerous sexual predator.
That said, recall that Rogers was previously arrested for domestic violence against his ex-wife, so his past is hardly clean and I doubt he'll find many sympathizers amongst the public.
***
When I first heard this story, I initially snickered but as I think about it all, I just get sad.  A man who fought in front of millions is now homeless and wandering around frigid St. Paul as he tries to have sex with men.  Maybe he's simply unable to come to terms with demons of some sort.  I hope he gets help.  No one should live life that way.